Training system
Skills matrix
Planning tool
Training on the job
E-learning
Work instructions
Performance support
Operational Excellence
Other functions
Projuice training software
Employees' performance is a crucial factor in your organisation's success. By using Projuice's tools, you can achieve an unprecedented increase in performance. Moreover, Projuice makes learning fun! IF you want to know more about the kinds of tools we offer, keep reading or feel free to contact us!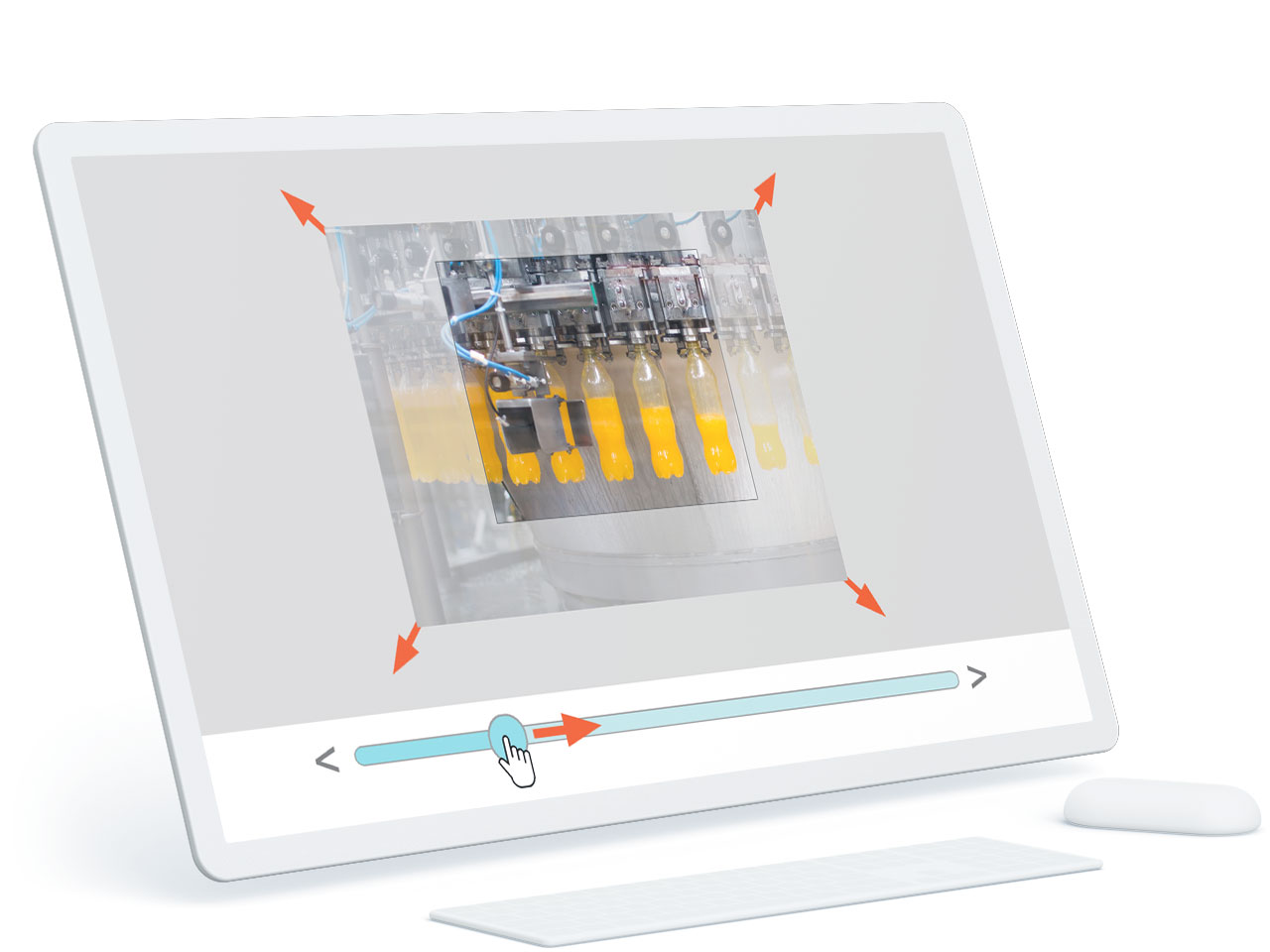 Professionalise your training programmes
Comprehensive training system
Projuice is a comprehensive training system for professionalising all of your training programmes: quickly and easily developing trainings; training registration and enrolment; demonstrable real-time insight into employees' skills; automated scheduling of onboarding processes…
Develop ánd present your programmes in a single, user-friendly system
Read more
Fully automated
Skills matrix
As employees complete on-the-job trainings, e-learnings and other training activities, they develop all kinds of skills. But how do you maintain an overview of who has got which skills, and who can be deployed to which workstations? Projuice's skills matrix is the answer.
Real-time insight into employees' skills
Read more
Automated training stages
Planning tool for onboarding
Imagine a situation in which existing and new employees start working at various workstations each year. All of them need to complete onboarding programmes for their particular workstations. These training programmes sometimes consist of dozens of elements that have to be completed in a set order. It's all very complicated! Wouldn't it be great to have a tool that would enrol each employee for the right training at the right time? Luckily, we have good news: that tool exists!
Full control over the scheduling of all of your training programmes
Read more
In accordance with all standards
Training on the job
Training on the job is hugely important for (new) employees to help them develop knowledge, skills, attitude and behaviour. Projuice offers the necessary tools and expertise to help you professionalise your organisation's training process.
Projuice lets you professionalise your on-the-job training
Read more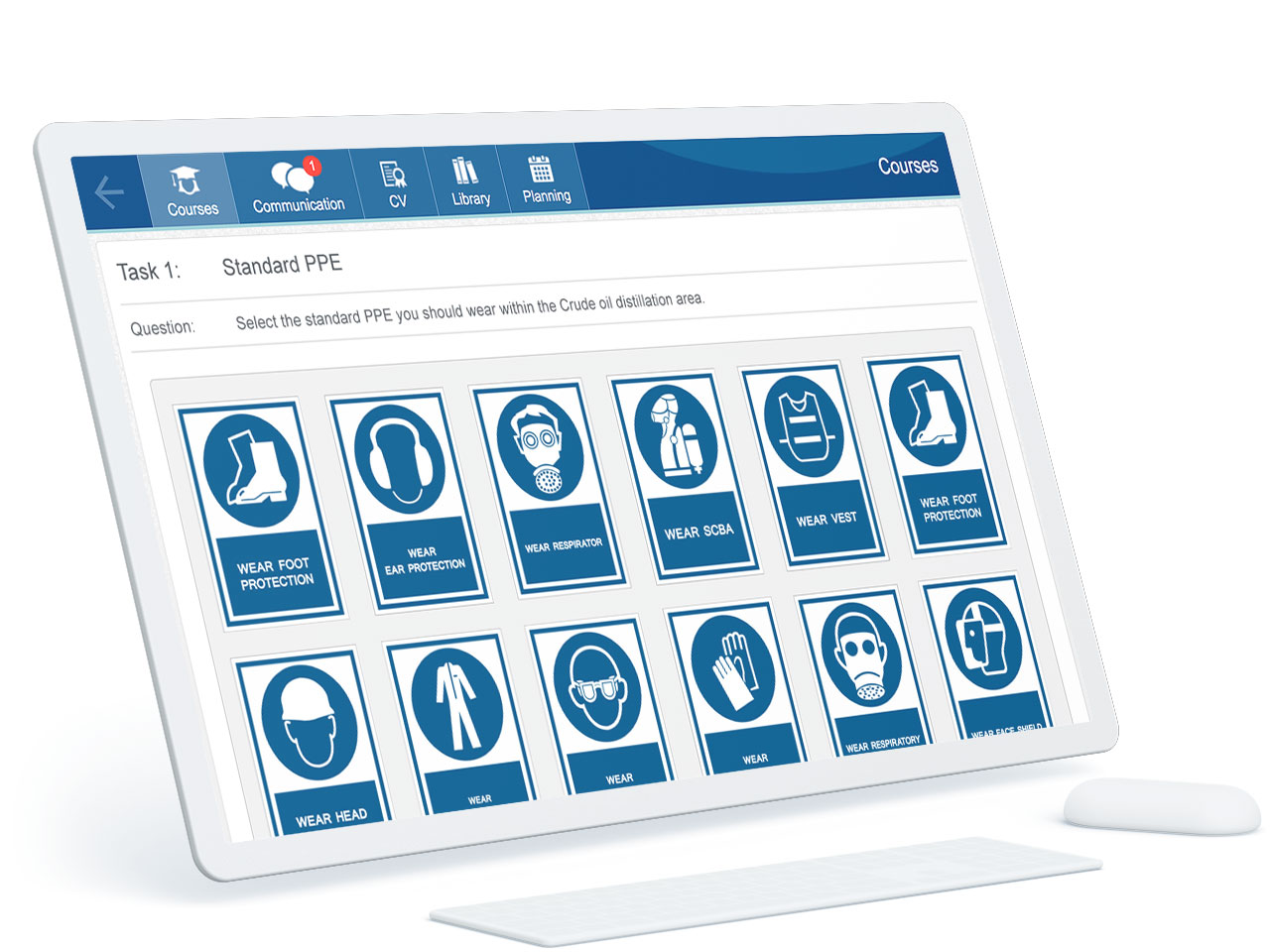 Visual, appealing software
E-learning
Developing and editing e-learnings has never been easier! With Projuice's simple software, you'll be all set to get started after a brief instructional session. And while the process is simple, the options are endless. Directly import files of documents that need to be covered, and use different formats to make the learning process fun and diverse.
Develop e-learnings in no time
Read more
Clever integration
Work instructions and other quality management documents
Do you want to structure the learning process regarding quality management documents better? Projuice's training software allows you to feature all relevant documents outlining tasks, applicable standards and work instructions in a structured, periodical fashion.
Work instructions are offered to employees in a structured, documented manner.
Read more
Just in time
Performance support for employees
Once your employees have completed all of the required trainings, it is time for the next step. Projuice offers the necessary support to enable all of your employees to maintain and improve their performance over time.
Lasting support, even after your employees complete their onboarding and start working
Read more
Optimal performance
Operational Excellence
If you want to realise lasting process improvements, you will have to change your employees' routines and attitudes. Luckily, Projuice enables you to change operational processes in a fast, targeted manner.
Projuice helps your organisation achieve continuous improvement
Read more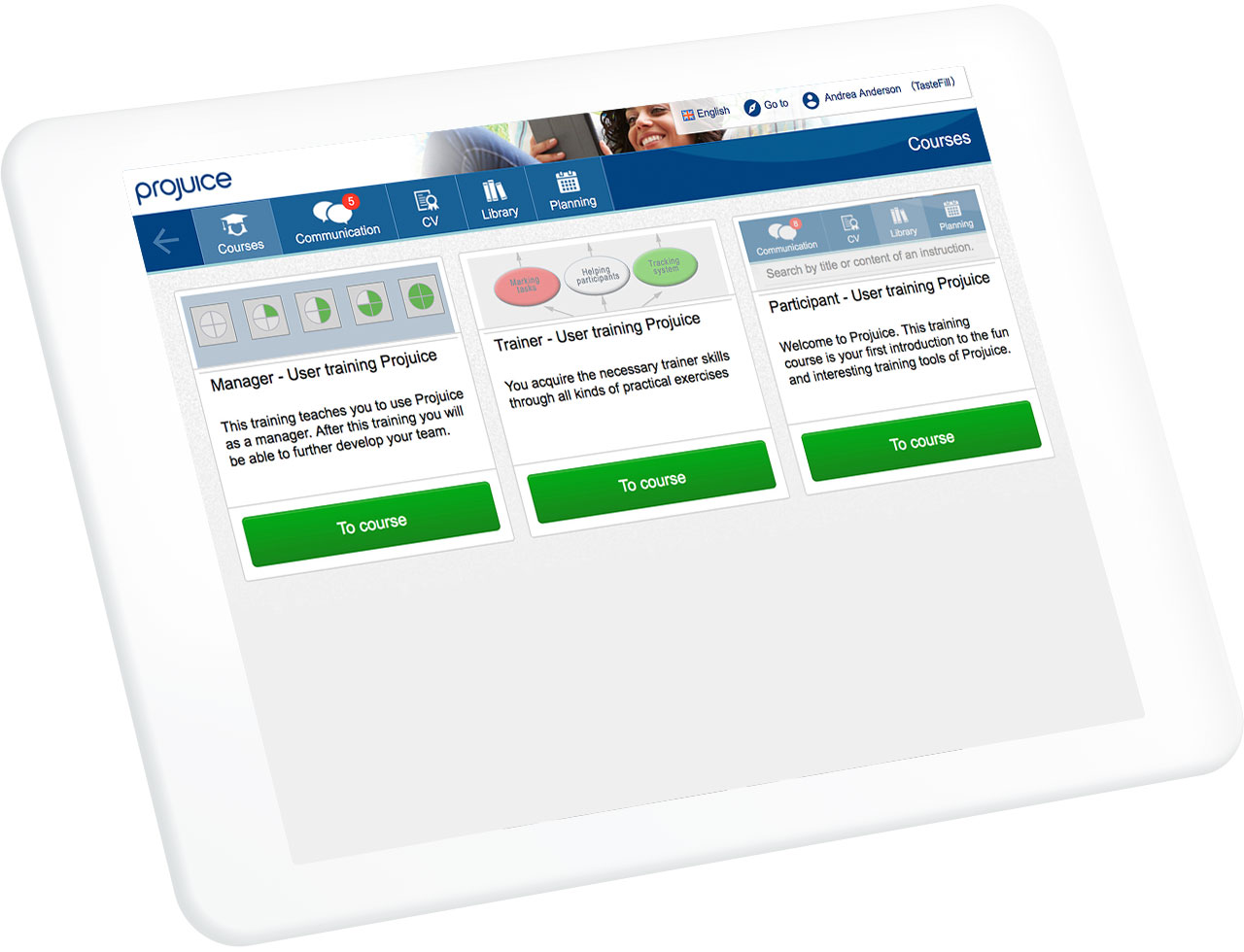 Professional support
Implementation
It takes a mere three months for Projuice to be implemented and the first results to start coming in:
The Projuice user trainings will have been completed
The first company-specific trainings will be up and running
You will be on your way to an organisation that has a professional response to all of its training needs
The efficiency of all deployable assets will increase
You will achieve excellent audit scores
With Projuice's support,  you can build your very own academy filled with professional trainings and workshops. Please don't hesitate to contact us and find out what we could achieve within your organisation!
Features
Other important features
Personal CVs

Projuice displays all training programmes and certifications in a comprehensive overview, listing all relevant external and internal trainings and courses in each employee's personal CV, including the dates when they obtained their certifications and when they will expire.

A comprehensive overview, in Projuice …
Automated reminders

Internal and external recurrent trainings won't be a hassle anymore after you've adopted Projuice. Before a certificate has a chance to lapse, Projuice will automatically inform the right people.
All bases covered, with Projuice …
Clear, comprehensible reports

Informing, analysing, presenting, confronting people with the facts… Projuice's reporting tool allows you to do all of these. It provides insight into all desired training details, such as costs, duration and certification. All of this data can be exported to Excel or PDF with the press of a button, enabling you to easily process or use the data for your meetings.

Optimal insight, thanks to Projuice …
Testing

Tests allow participants to demonstrate that they have mastered the required knowledge and skills. Self-tests, interim tests, and randomisation, via the computer and on the job. Projuice can do it all. You even have the option of automating your practical checklists.

Test the results, using Projuice …
Clear structure

All trainings are divided into several modules, making the amount of material to be processed much more manageable. A training roadmap shows participants exactly how much of the training they have complete, and how much they still have left to go. 

Plain and simple, with Projuice …
Different formats

Variety is what makes learning fun, and Projuice offers a wide range of learning formats, such as clickable images and click-and-drag assignments that have participants match the right images to one another. The options are endless.

Learning can be fun, in Projuice …

Excellent support

Projuice offers participants the best support possible. For example, they receive clear feedback after every assignment, and can contact their trainer with questions at any time. If their progress appears to be stagnating, their assigned trainer will receive an automated alert. Trainers are able to track and guide participants from the same software environment.

Great support, with Projuice …

Clear instructions

Projuice offers clear instructions at all times. The participants get to choose whether to consult them, so that they can set their own learning pace. This ensures better results and shorter training times for employees who are already more competent in a particular area.

Better results, using Projuice …

Multiple languages

Projuice enables you to change the display language to one of the languages listed below with a single press of a button. Perfect for visitors or contractors from abroad, of employees who are foreign-language speakers.

No language barriers, in Projuice …

Up-to-date

A changed procedure? New safety regulations? No problem! Just create a copy of an existing instruction, change a few details, and train all of your staff to be up to date in no time. Projuice will provide you with a real-time overview of each employee's status, so that you'll always know exactly how things are progressing.
Always up to date, with Projuice …
Global integration

Projuice can be linked to other systems all over the world, such as your HR software or scheduling system. Moreover, Projuice satisfies all international standards for e-learning, namely SCORM and AICC.

Always the right fit, with Projuice …

Available anywhere, anytime

Projuice is accessed via the Internet, which ensures that your programmes will be available anywhere, anytime. Each employee has their own password-protected learning environment.

Wherever you go, Projuice goes too …

.Licensing model
Projuice's possibilities
| | Projuice 50 | Projuice 100 | Projuice 500 | Projuice >500 |
| --- | --- | --- | --- | --- |
| Maximum number of users | # 50 | # 100 | # 500 | # No max |
| Unlimited number of courses | | | | |
| Unlimited number of enrolments | | | | |
| Skills matrix | | | | |
| Workstation matrix | | | | |
| Team matrix | | | | |
| Planning tool * | | | | |
| Performance support | | | | |
| Training design tools | | | | |
| Reporting | | | | |
| Multiple languages | | | | |
| Implementation plan | | | | |
| Promotional posters | | | | |
| Periodical updates | | | | |
| Back-ups | | | | |
| Employer synchronisation * | | | | |
| Support * | | | | |
| Custom integrations * | | | | |
* Optional, contact us for more information about the possibilities.